Back home yesterday ....
We had a great holiday, wonderfull weather up to the last four days when it was raining off and on - in between the sunshine!!
The journey over was eventfull enough, my back was killing me, so it was not an easy trip for me, the crossing was ok - but not great and we all took a little ill - unfortunately while we were sitting down to dinner (sad). So that was very much a wasted meal. We took to bed in what Irish Ferries describe as the four star cabin....which we paid the extra for as we had such a good experience on the old boat with it. It was not up to the old standard ... they describe it as having a fully stocked mini fridge, yet that appears to be two small wines, two beers, two cans of minerals, and two bottles of water. Not what I would call a fully stocked fridge for four....:(
Stoped in Quimper on the way down to Nevez. Its a lovely little town, well worth a visit if your in the area. Lots of little streets and interesting shops. We had a lovely lunch of crepes - of course!!
But the main thing was the view of the sky .....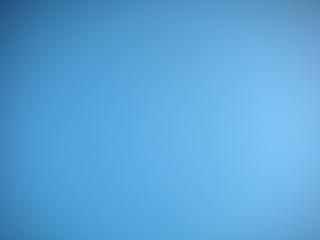 The first site we stayed on was Les 2 Fontaines, which turned out to be lovely, and very popular with the French themselves - which we took as a good sign. It was quiet, peachfull, and gave off an air of safety. Facilities were good, and the pool complex was great and very clean.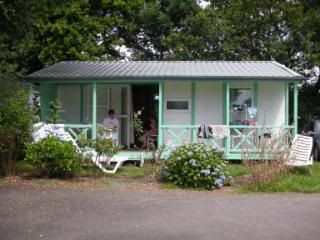 We had booked a three bedroom chalet, which while small was fine. It had a lovely deck area for sitting out - paper thin walls - which if nothing else meant that when I went on into bed I could still continue a conversation with the lads in the sitting room!!
Liadan made the most of the pool ... she still fits into her wet suit from last year .. not sure we will get another year out of it but it owes us nothin!!!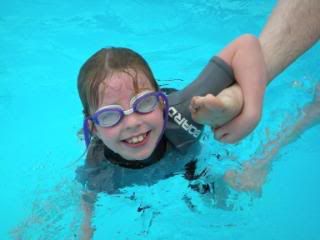 We had a great week there, got to explore the area, which is lovely ... great market in Pont Aven, lots of creative stuff as opposed to the usual market standards. Pont Aven must be a haven of creativity as the place is full of galleries.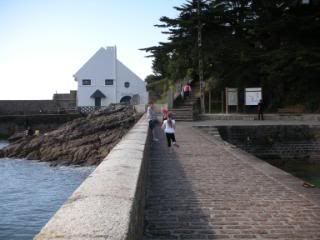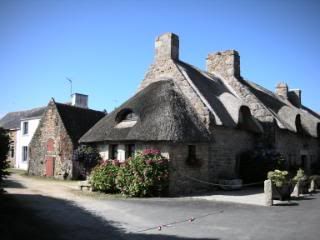 We tried out Archery on site too... and are now the owners of a bow and arrow!!
We took the girls off to the Aquaraum in Brest one of the days - could not get the boy out of the bed so left him behind - I would highly recommend it. We were a bit daunted at first as it was quite expensive in but as we had driven almost an hour decided to give it a try. I have been out to the one here in Bray a few times and hated it ...but we spent almost five hours in this one in Brest!! There were all sorts of things to see, the shark tank is huge. At various points you are under it, looking through it, down into it and from all sorts of angles, even at one point you take a glass lift down the middle of the tank!! They had a lot of interactive parts which help make it an interesting experience ...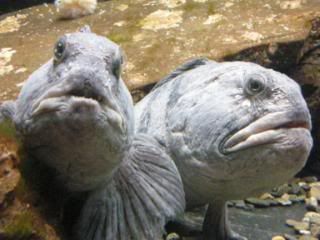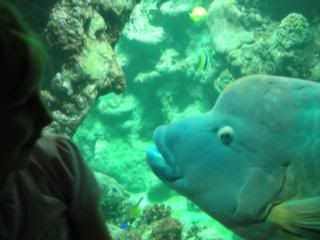 Including the part where this guy gets into the tank with some of the fish.... he had a camera on his goggles so you could see from his viewpoint. I wish our french was better as I am sure he was telling us lots of interesting facts!!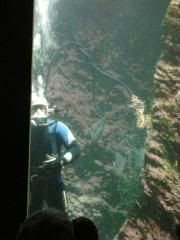 Spent a happy week there - before having the evening the kids love - eat the fridge night!! Then spend the weekend in Reinnes in a hotel - oh the comfort of a decent bed!! Worth every penny. Reinnes has a most wonderfull flower market on the saturday morning, if you lived there you would be at it every week, we could have spend the day just smelling it!!
Thats the first week done!!