So we moved from Reinne up to Dol de Britania... to Domaine Des Ormes.
We had a good week there, did even more traveling around ... its a good central spot for traveling around northern Britanny. Our favourite place of all had to have been Mont St. Michel, which was well worth going to see. Its extreemly touristy, but worth it all the same...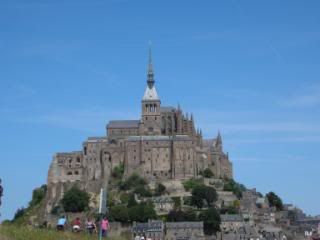 view from the car park...
And the main street ....
looks and feels like something from harry potter!! its full of shops that are selling the usual sort of stuff at about three times the cost, we had a lovely lunch there which felt like eating on the side of a mountain.
One little funny insident that happened was as we were getting back into our car, this lovely big merc pulled in beside us and out stepped three budist monks!! complete with sun glasses and digital cameras....
What else did we do that week...? More archary - less value for money on this site, it cost us three euro each for an hour and a half on the first site, five euro each for half an hour on Des Ormes, and the equipement was sh1te here too.
Liadán got to go on a "poney" ride (their spelling on the ticket!!). It was such a waste of ten euro. The trail was not marked out properly so it was up to us to lead her around ...and we have no experience of ponys at all. So what should have been a half hour took us 15 minutes ..we arrived back at the stables when upon the animal stoped!! She loved it but we felt ripped off...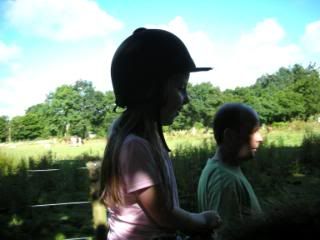 Actually I would so not recommend that site to anyone ... there were only Irish and English on the site, so all you heard was english spoken, the bar was constantly full of kids no matter how late you went down, and they seemed to be serving all ages, with teenagers who looked to us to be only 14 getting beer and wine at sold to them.
So we ended up more off that site than on!! But it worked out ok for us. Went to a snake zoo one day, an ordinary zoo another, did a few of the markets - the one in Dol de Britania was great.
On the saturday we found a village fair on in one of the local towns ... it was cool like stepping back in time!!
The BBQ !! _ _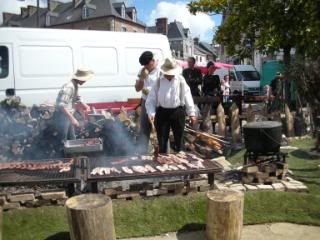 - - -!
The spit ....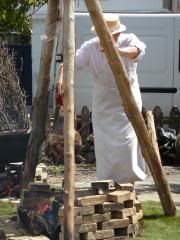 . . !!
And of course ...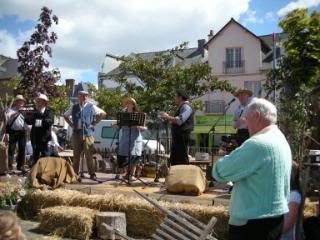 ....the band !!
There was traditional dancing, homemade cider which you drank from bowls,a blacksmith and all the time the sun splitting the sky....
So all in all we had a good holiday, it will be the last one we are bringing the teenagers with us ... Roisin was ok, but could have been at home just as happily as being away, as she was content to be brought to the odd place but spent most of the time sitting drawing inside the chalet/hotelroom/mobile... but the Boy (!) dont get me started !! Never again !!!!!!!!!