I made this card for my mum & dad's wedding anniversary this week. 46 years married. We are already planning the party for four years time, all going well.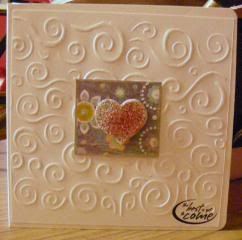 With thanks to Julie (FP) for the stencil which meant I could emboss!! That was fun.
Got this months Scrapbook Inspirations .. and with full credit going to Nicola Kerridge... I scraplifted this...
I drew the flowers, then outlined the petals with markers, stuck buttons in the centre. Apart from being terrific fun ... it was a brilliant way of using up spare little scraps of paper.
Finaly again credit going to Scrapbook Inspirations ... designer Cara Medus...I tried out using the sewing machine on this one.