Des & I went to the movies last night ... to a grown up movie. Must remember not to call it an adult movie, that brings to mind a whole different story!!
It was part of the Dublin Film Festival, but I just wanted to go as it was based on a Phillipa Gregory book I had read a few months ago, and LOVED !!
The Other Boylen Girl...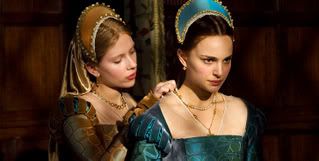 Based on the story of Mary and Anne Boylen. Of course most people know the story of Anne Boylen, but her younger sister was Henry's mistress first and for quite a number of years too. She had two children for him, a girl then a boy, the movie shows only one child. Its a facinating story and one I would highly recommend.
Phillipa Gregory makes history so interesting. You would think that reading or watching a story you think you know would be boring, but even so there is still a point when you hope Anne will not be killed. You still get that moment of shock when she gets beheaded....