Its been extreemly busy over the past week or so.
Just to give you an idea ...
Thursday last - took a trip out to musgraves cash & carry to buy the sundries for the craft fair on the sunday. Passed the Ikea building on the way - glad to see its only going to be a ten minute drive from my house - or will I be glad?! Will everything in my house end up coming from Ikea!!
Then the Friday - well in the morning I had the ever enjoyable weekly trip to tesco for the food shopping... Does anyone out there enjoy this ???
Then an hour round trip drive out and back to Trim to collect my niece (who was staying with us for friday evening thru to saturday night) - made good time actually all things considered. I had to for-go attending the opening cermony for the new special needs classes in CETNS to do this , but I havent yet learnt to do two things at once... when I do - watch out world.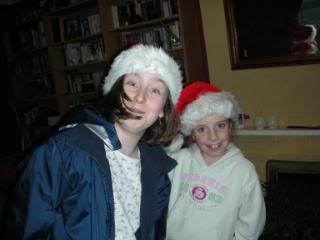 Tara & Liadán - all set for the Toy Show!
Friday evening was the wonderful Late Late Toy Show. Thank the goddess for bulmers. Thats all I can say. Its nice to all sit together for a change, and we did have a roaring fire going .. so it wasn't all bad. And as I said ..there was bulmers!!
Roisin & Liadan "helping"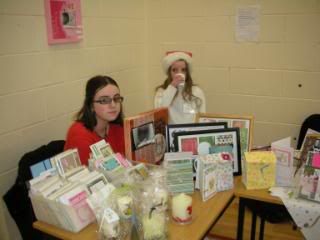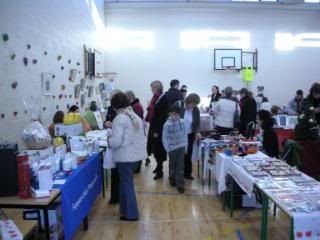 Saturday Liadan did gym, then we set up the hall for the Craft fair, held on the Sunday and which was a tremendous sucess. There were people in all day from 10am onwards. We finished up at 4.30 as it had eased off by then. We - as the school p.a. did very well out of it, raising near to a thousand euro. Me - as a stall holder did great - I took in over two hundred so I was happy. And one of the stalls was a fund raiser for the Irish Guide Dogs and they raised
680
euro!! For that alone it was worth every minute of the time it took me to set it up.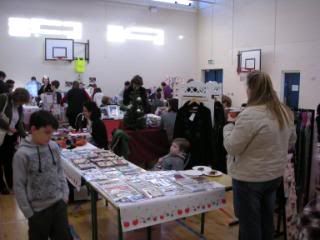 Monday morning was a lovely relaxing morning at mosiac...total stress free wind down sitting making stuff!
Tuesday I was out to lunch with the ladies!! Avoca for lunch and shopping. Except all we did was look at stuff and figure out how to make it! The joy of hanging around crafters...
Wednesday - well I had five different places to be. First I went to get more food for the house. Well they will keep eating the other stuff. Then I had to go up to the aquatic centre for L.'s swimming lesson. Then I was supposted to attend Sean's parent teacher meetings. Then L.'s dance class were doing their end of term show. And I had to pick Roisin up for an appointment. So I skipped the parent teacher meetings....
Today I had another craft fair to attend, thankfully this time I was just selling stuff. So that was easy enough. Fared much better than I thought. Thats five craft fairs this year. Three were sucessful. One fairly ok. and one disastar. So there ya go...
That was my week.
And in the middle of that Des asked me why I did not go to the gym this week. . . . .?